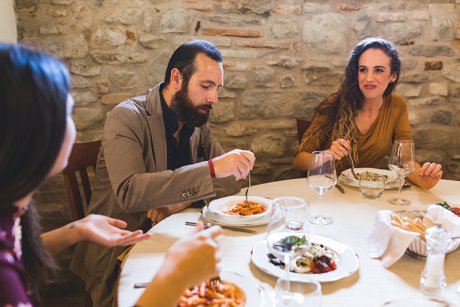 Generations of families living in Portland gather together to break bread at the Old Spaghetti Factory. Memories are created both big and small with celebrations of lifetime events and simple meals shared with loved ones. With a vibrant history, this iconic Portland property restaurant has been filling local tummies with homemade goodness since 1969. Family owned and operated quaint and quirky decor blends well with decadently delicious food.
Menus are made for picky appetites. Almost endless there seems to be something to satisfy almost everyone's cravings. Appetizers set the stage for memorable meals. No one says no to pieces of Sicilian garlic cheese bread. Shrimp, spinach and artichoke dip is served with rustic bread. Pasta is palate pleasing. And the namesake dish comes paired with a variety of sauces. From brown butter and Mizithra to meat, marinara, and clam, spaghetti made from scratch cannot be beat. Baked lasagna layers pasta with cheese and meat. Rich chicken parmesan really hits the spot. Signature selections are hard to choose between. Regulars living in Portland love to indulge in the chicken piccata or gourmet jumbo crab ravioli. Salads are refreshing options for those seeking a lighter meal. Don't forget to leave room for dessert. Those who are too full often take one to go. Temptations take the form of chocolate mousse cake, New York cheesecake and mud pie. Seniors and kids have special menus designed just for them. Gluten free options are also available.
The Old Spaghetti Factory prides itself on cooking with only the highest quality ingredients. Authenticness is enjoyed in every bite. A key staple in many delicious dishes is the addition of Mizithra cheese, an imported flavorful Greek Cheese. This shared secret ingredient is now available in select grocery locations of Portland property.
Mouths water all around when a trip to the Old Spaghetti Factory is suggested. Grab the keys, load the family in the car and get up and go.